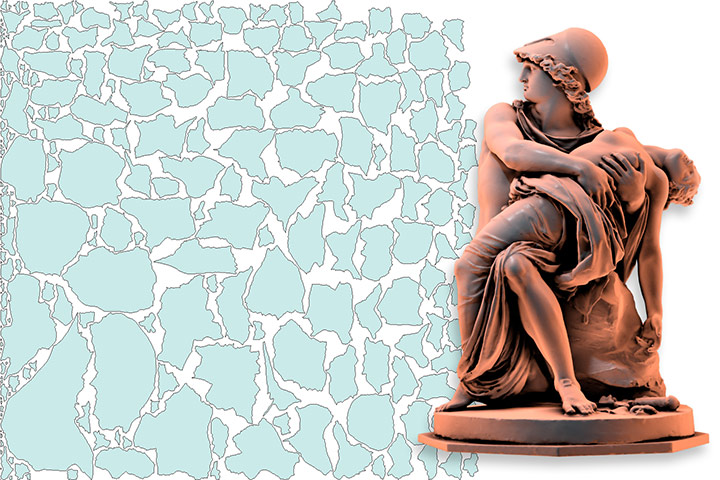 Effective. Simple. Painless.
Unwrella
is solving the problems of generating UVs for irregular or complex 3D geometries. There is no need for manually placed seams. There is no need to arrange UV chunks or to shift UV tiles around.
The new normality in 3D are no longer low-poly models, but extremely high-poly assets, impossible to unwrap manually.
Unwrapping crooked things
Unwrella's strength lies in your weakness.
You can't unwrap high-poly, jagged, twisted and misshapen assets. The "Organic" mode is entirely automatic, the time usually spent by artists for manually unwrapping such complex objects is reduced to zero.
The worse the geometry is shaped, the better Unwrella can exploit it!
Unwrapping edgy things
Unwrella's "Hard-surface"
method is optimized for lightning fast quality unwrapping of architectural elements, machines, weapons, engineered structures and masses of generic asset.
This is a true one-click action for creating UVs on the fly for light-maps, procedural textures, texture baking or preparing your cities, indoor or industrial design geometries for Unreal or Unity.
P.O.V. UVs
There are countless cases in the production where an object is visible from only one side: hills, walls, doors, exhibition dolls. Wouldn't it be great to only unwrap the areas facing the camera and save valuable UV space by texture baking only visible polygons?
Projection unwrapping in Unwrella does this job for you.
Superb UV packing
Unwrella comes with integrated UV-Packer technology for optimal UV packing. There are not many tools on the market that can compete with UV-Packer in terms of speed and efficiency. It is unrivaled when it comes to packing thousands of clusters and millions of polygons.
This makes it an ideal choice for texture-baking or painting, where each pixel counts.
Still waters run deep
Unwrella is one click, but not yet entirely a magic button.
We have listened for a decade what our 3D customers have to struggle with and what production workflow expectations they have. It was very soon clear to us that there are as many special cases as there are customers. We have developed and cultivated Unwrella over a long time, adding as much functions as necessary while removing as much superfluous stuff as needed.
And we contiue to do it every day.
Artist friendly
Unwrella
was the first 3D app, back in 2008, to introduce a single click UV unwrapping and packing workflow. It is conceptualized to be a pure, practical solution, made for Artists by Artists. It comes with an easy to understand, user-friendly interface, all necessary options and fluid user experience.
We are resolutely committed to good, clear and functional usage.
Permanent license, constant updates.
Unwrella uses a mobile license, which you can move from one computer to the other around the world. The activation & deactivation happens with a simple click. For more, detailed explanations about the licensing functionality, please refer to the Installation and Licensing Manual.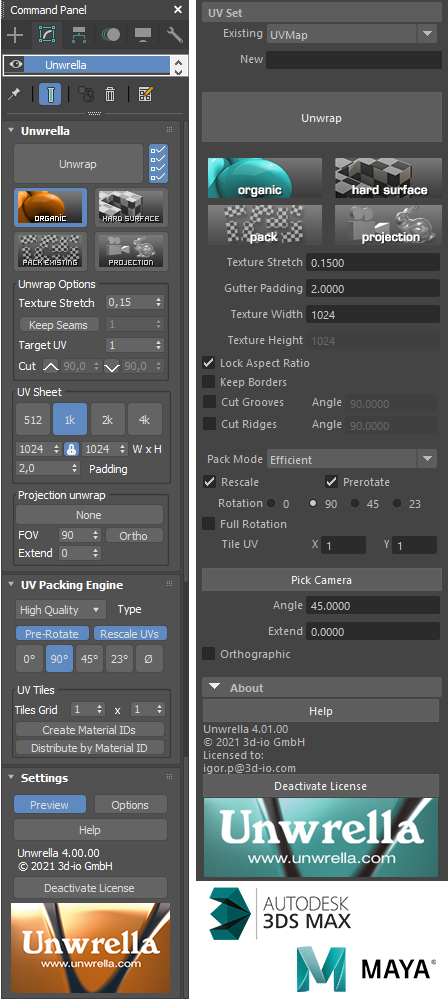 Unwrap only visible sides
Auto UV seams creation by angle
Multiple object support(*)
(*currently 3ds Max only)
Extra UV management controls
MAXScript and Mel script support