Unwrella, the automatic and optimal unwrapping plug-in, is now available for Autodesk Maya.
Unwrella is a long awaited solution for all Autodesk Maya artists who have to deal with mapping and unwrapping of 3d geometries. Unwrella for Maya offers a fast and easy to undestand workflow to create automatically optimized UV maps, unfolds meshes for texture baking and packs UV parts efficiently.

Unwrella Maya Highlights:

The popular Unwrella plug-in for Autodesk 3ds Max is now also available for Autodesk Maya
Automatically unwraps and packs UV maps for meshes
Optimal quality UV layout that avoids texture deformations
No visible texture seams due to uniform pixel distribution over the mesh surface
Resulting UV maps have optimal quality for texture baking
Supports both user placed texture borders and procedurally generated borders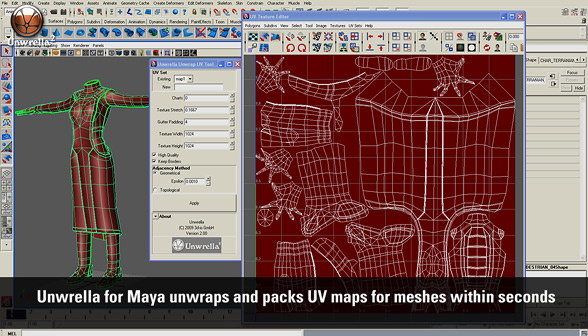 The Unwrella unwrapping plug-in for Autodesk™ Maya™ 8.5, 2008, 2009 (each 32bit and 64bit) is now available for sale and as a freely downloadable trial version on its homepage: https://www.unwrella.com
Unwrella was developed for the high demands of graphics designers in real world production environments and provides a fast, simple and reliable unwrapping solution. It is the first tool of this kind on the market, allowing the unwrapping of 3d models to be done with a single mouse click while simultaneously providing optimal results that combine the minimized texture stretching of automated unwrapping techniques with the efficient space utilization and chunk distribution of UV space that is achieved with manual pelt wrapping methods. This allows users to quickly solve complex tasks like the creation of seamless 3d models, more accurate lightmaps and productive subsequent processing of the UV maps in other 3d applications like ZBrush™ or Mudbox™.
About 3d-io
3d-io games & video production GmbH is specialised company for high-end software development, modeling, animation, rendering, CG effects and 3D industrial design. 3d-io GmbH, headquartered in Wiesbaden, Germany, has an established strong presence in game development, design & video production, digital content creation as well as in graphics and animation. We are dedicated to provide easy-to-use software products accompanied by dedicated support team, experienced programmers and top notch 3D artists. Our latest product on the gaming market was nominated for the German Game Developers Award 2008 in best graphics category, and CG products are used by many famous Game and Design Studios worldwide.
Contact:
www.3d-plugin.com / info@3d-plugin.com